Name:
SLM metal 3d printing
Technology:
SLM
Tolerance:
±0.2mm - ±0.05mm
MOQ:
1 piece
Material:
Stainless Steel 316L, Aluminium AlSi10Mg, Steel MS1/18Ni300, Titanium TC4/Ti6Al4V, Inconel718, CoCrW, QCr1
Surface treatment:
could polish, painting
Factory Address:
Shanghai
Product Description
SLM metal 3d print -1.jpg"/>
FlytigerCNC provides comprehensive metal 3D printing services (SLM printing serivice). Most metal materials can be printed, and MOQ 1 piece. As long as you provide us with the 3D design draft. We can quote you within3 hours working time.
Before offer the price. Get the quote simply by completing and
submitting the form below:
• Attached 2D or 3D design( We accept IGS, IGES, STP, STEP, SLDPRT, 3D DWG, STL, and more.)
• Material:________
• Quantity: ________pcs
• And many kinds details. Finishes, tolerance,Hardness and more.
• Where to Shipping: _______________ (Country with postal code)
Material:

Stainless Steel 316L

Tolerance:

±0.2mm or ±0.2%

Finishing:

Ra3.2-6.3μm

Tensile strength:

560Mpa

Yield strength:

480Mpa

Elasticity modulus

160GPa

Elongation of fracture:

30%
Material:

Aluminium AlSi10Mg

Tolerance:

±0.2mm or ±0.2%

Finishing:

Ra6.3-12.7μm

Tensile strength:

330Mpa

Yield strength:

245Mpa

Elasticity modulus

60GPa

Elongation of fracture:

4%
Material:

Steel MS1/18Ni300

Tolerance:

±0.2mm or ±0.2%

Finishing:

Ra3.2-6.3μm

Tensile strength:

1000Mpa

Yield strength:

900Mpa

Elasticity modulus

160GPa

Elongation of fracture:

5%
Material:

Titanium TC4/Ti6Al4V

Tolerance:

±0.2mm or ±0.2%

Finishing:

Ra3.2-6.3μm

Tensile strength:

900Mpa

Yield strength:

800Mpa

Elasticity modulus

100GPa

Elongation of fracture:

5%
Material:

Inconel718

Tolerance:

±0.2mm or ±0.2%

Finishing:

Ra3.2-6.3μm

Tensile strength:

980Mpa

Yield strength:

780Mpa

Elasticity modulus

140GPa

Elongation of fracture:

16%
Material:

CoCrW

Tolerance:

±0.05mm

Finishing:

Ra1.6-3.2μm

Tensile strength:

1000Mpa

Yield strength:

621Mpa

Elasticity modulus

210GP

Elongation of fracture:

10%
Material:

QCr1

Tolerance:

±0.2mm or ±0.2%

Finishing:

Ra3.2-6.3μm

Tensile strength:

230Mpa

Yield strength:

130Mpa

Elasticity modulus

90GP

Elongation of fracture:

5%
CNC MACHINING Quality Control:

Quality inspection report link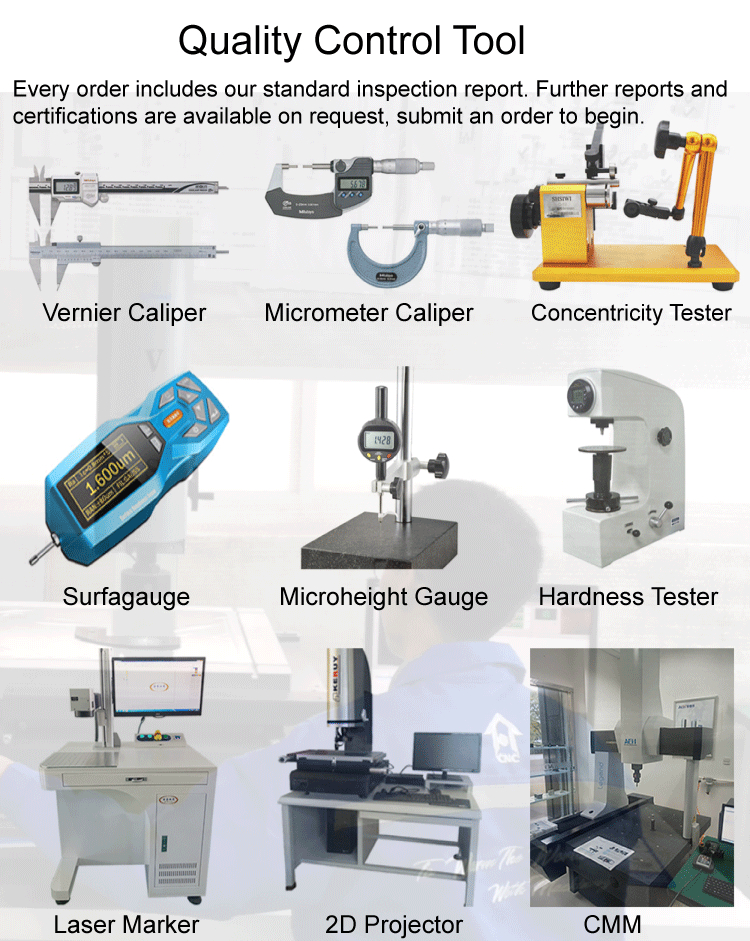 Related Products